Zircon – Vertical scrolling shoot 'em up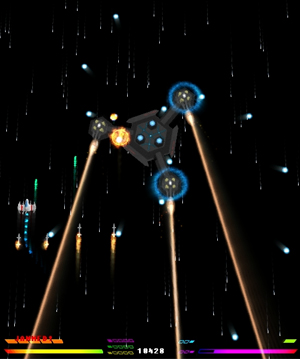 Zircon is my old vertical scrolling space-themed shoot 'em up that was originally released in summer 2007. For many years it was the project for me to practice OpenGL and overall game programming, mostly just by adding whatever I felt would be neat in the game. The development was very occasional though – I recall there even was almost a year-long period when I didn't touch the source codes at all. Eventually there was enough content to call Zircon "a game" so in spring 2007 I started finalizing it for release. By today's indie game standards Zircon isn't much but it's still a fun little shmup.
Somewhere, deep in space… Sigh, who cares about background story anyway?
Simply put, ZIRCON is a challenging freeware space-themed shoot 'em up for Windows.
Features
* Jaw-dropping special effects (such as motion-blur, bullet-time and particle explosions)
* Upgradeable space ship
* Various enemies that fill your screen with bullets!
* High Scores list
MANUAL
Controls
ARROWS – Move your ship
A – Fire Plasma Cannon (Tap A for Quick Shot)
D – Fire Missiles
W – Fire The Bomb
P – Pause
Esc – Quit game
Upgrades

Extra Plasma Cannon
Damage upgrade for Plasma Cannons

Rate of fire upgrade for Plasma Cannons
The Bomb ammo

More efficient weapon cooling system
Faster shield regeneration
Repair the ship
The HUD

ZIRCON Copyright 2007 Teemu Leskinen (teemu@prkl.info). All rights reserved.
THIS SOFTWARE IS PROVIDED "AS IS" AND ANY EXPRESS OR IMPLIED WARRANTIES, INCLUDING, BUT NOT LIMITED TO, THE IMPLIED WARRANTIES OF MERCHANTABILITY AND FITNESS FOR A PARTICULAR PURPOSE ARE DISCLAIMED. IN NO EVENT SHALL THE REGENTS OR CONTRIBUTORS BE LIABLE FOR ANY DIRECT, INDIRECT, INCIDENTAL, SPECIAL, EXEMPLARY, OR CONSEQUENTIAL DAMAGES (INCLUDING, BUT NOT LIMITED TO, PROCUREMENT OF SUBSTITUTE GOODS OR SERVICES; LOSS OF USE, DATA, OR PROFITS; OR BUSINESS INTERRUPTION) HOWEVER CAUSED AND ON ANY THEORY OF LIABILITY, WHETHER IN CONTRACT, STRICT LIABILITY, OR TORT (INCLUDING NEGLIGENCE OR OTHERWISE) ARISING IN ANY WAY OUT OF THE USE OF THIS SOFTWARE, EVEN IF ADVISED OF THE POSSIBILITY OF SUCH DAMAGE.